Meena Kumari: Tragedy Queen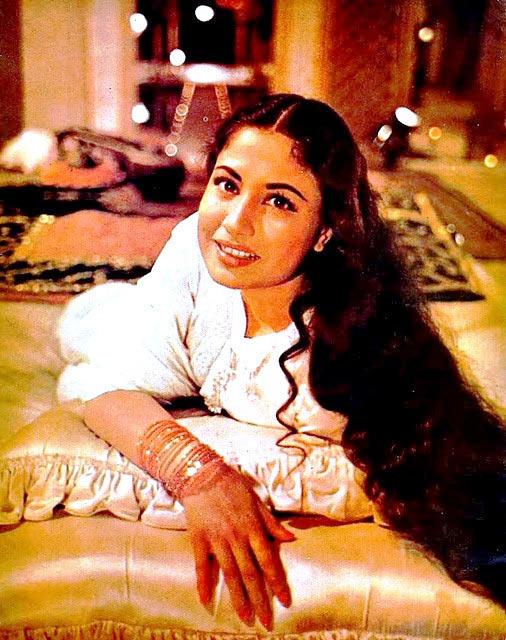 Meena Kumari or say Mahjabeen Bano an Indian film actress, singer, poet, and popularly known as The Tragedy Queen of Indian cinema. She is also called Female Guru Dutt of  Hindi films and is often remembered as the Cinderella of Indian films.  She began acting when she was four. Critics regarded her "historically incomparable" actress of Hindi cinema.
Meena Kumari hit movies list
#Daera (1953) 

Its story is loosely based on Kamal Amrohi and Meena Kumari's own love story.
#Pakeezah (1972)

Pakeezah is India's first color film in Cinemascope and Meena Kumari's most awaited film and has since acquired major cult status as well.
#Sahib Bibi Aur Ghulam (1962)
It is based on a Bengali novel, Shaheb Bibi Golam by Bimal Mitra. The movie was highly appreciated and was nominated for the Berlin Film Festival: Golden Bear (Best Motion Picture).
#Parineeta (1953) 
A great story of perfect love. The beautiful part of this movie is dialogue and communication between Meena Kumari and Ashok Kumar. She was awarded 'Filmfare Best Actress Award.'
Men who loved and left Meena Kumari
Meena Kumari was involved in a motor car accident, injured around the left hand. Kumari went through bouts of depression, and Kamal Amrohi visited her regularly during her days in the hospital. Even they use to write letters to each other. For four months this hospital affair continued and love blossomed. On 14 February 1952 Meena Kumari, 18, and Kamal Amrohi, 34, secretly got married. Though the marriage was kept secret from the family and media because Kamal Amrohi was already married and had three children from his former wife.  But it couldn't be hidden from the media and after some months, the matrimony news was leaked. But their marriage couldn't last long and the couple got separated in 1964. After that, Kumari's name was associated with Rahul, Gulzar, Dharmendra and Sawan Kumar Tak.
Shayaris By Meena Kumari That Evoke A Deep Sense Of Melancholy
The Immortal Dialogue by Meena Kumari
#"Hamara yeh bazaar ek kabristan hai; aaisi auraton ka jinki roohen marr jaati hai; aur jism zinda rehte hai"  Pakeezah 
#"Zindagi ki raahon mein thokarein wohi khate hai; joh oonche hokar chalte hai"  Naya Andaz
#"Hum mein apna ilaaj-e-dard-e-dil karna bhi aata hai; hum aaise jeene waale hai jinhe marna bhi aata hai" Benazir
#"Ab tak na khabar thi mujhe ujhade hue ghar ki; aap aaye toh ghar be-sar-o-saman nazar aaya" Benazir 
#"Phoola chaman khushi ka jaane bahar aaya; aankhon ka noor aaya, dil ka qaraar aaya; dekhe joh khwab dil ne, tabeer hai yeh unki; humko bhi zindagi ka ab aetbaar aaya; joh phool-e-ilahi, hasta rahe hamesha; joh bagh-e-zindagi mein bankar bahar aaya" Benazir 
#"Har tawaif ek laash hai" Pakeezah 
Also, Read