Trekking in India started when the land was inhabited in prehistoric times. There are perhaps as many trekking routes in India as there are Indians.
Here are List of Trekking Places in India:
1. Chadar Trek, Ladakh
The Chadar Trek is also known as "Zanskar Trek".It is nice experience to indulge in the in the Himalayan ranges.This regions is having a low temperature throughout the year.The best season to visit is January to February.The Another important attraction of the region is the Buddhist heritage and religious richness.
source Thrillophilia
2. Hampta Pass Trek, Himachal Pradesh
Hampta Pass Trek is one of the another Trek which is situated near Kullu valley.The best time to do  the activity is in mid-May when the climate is just right for a long trek.And the best season is May to October.
source Thrillophilia
3. The Markha Valley Trek, Ladakh
The Markha Valley is the one of the rewarding journey of "Little Tibet.The Markha Valley trek begins at Zincking.The best Season to visit Markha valley is June to October.
source 

IndianHoliday
4. Kuari Pass Trek, Uttarakhand
Kuari Pass is situated in Garhwal Himalayas.Replete with tributaries of the Ganges, dense mountain forests, and a fleeting interaction with local life, Kuari Pass trekking can be best enjoyed during winter months.The best season to visit this place is December to February.
source Videndaa
5.Great Lakes Trek,
It is situated near Jammu and Kashmir   Arrive in Srinagar and head to Sonmarg from where your trek will start. Next day, start your trek from Sonmarg and over the course of eight days, pass through Nichnai, Vishansar Lake, Gadsar, Satsar, Gangabal and conclude your trek in the beautiful city of Naranag.
source Thrillophilia
6. Bhigru Lake Trek
Get picked up from your hotel and embark on a short drive to the last village of Manali called Kothi and Trek to the stunning and panoramic bhigru. The  best season to visit this place is Mid-May to October.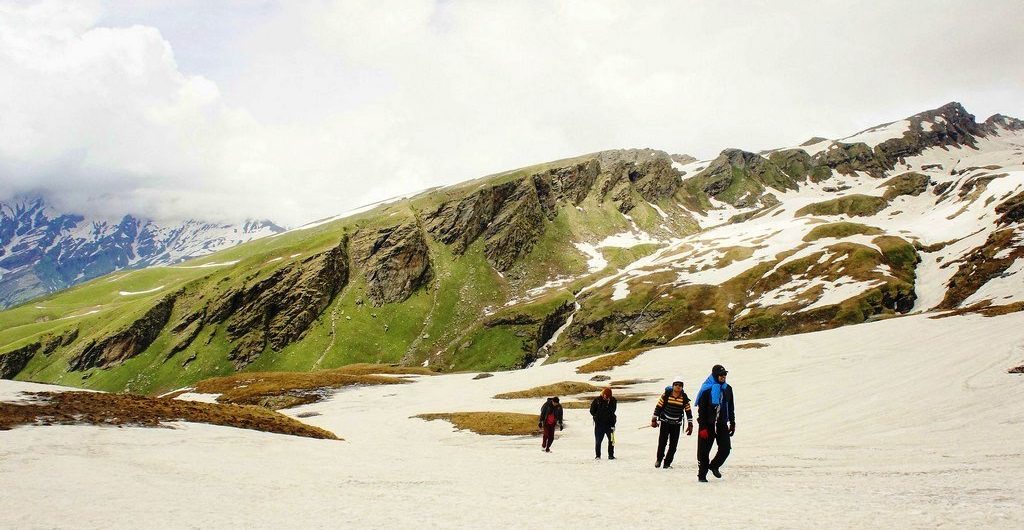 source Adventure Nation
7. Trekking at Rupin Pass
Rupin Pass is an ideal trek for any adventure as it offers trek to every type of terrain, be it on snow, rocky terrain, along and through the water streams or meadows.we can start trekking your route from greener and hot landscapes and move towards and through the coldest of areas over the snow as you reach to the end.The best time to visit is during winter.
8. Har Ki Doon Trek, Uttarakhand
It is the one of the famous Trekking among Uttarkhand. And also known as "God Valley. Har Ki Doon trek is a favorite in summers and post-monsoon owing to the vibrant greens patched with orchids, rhododendrons, and other blossoms. The best season to visit  during Winter.
source Thrillophilia  
Also Read