There're biggest and unique things around the glove which clearly proves that humans like to live it large. From the largest bottle of wine to the world's largest cruise ship, humans are supersizing everything possible. Here is the list of 8 biggest things in the world.
#World's largest plane- Stratolaunch
This aircraft has got 6 engines, 28 wheels, and a wingspan longer than a football field. Sounds amazing, isn't it?  So, what's the use of such a huge plane? Well, it will be used to transport rockets carrying satellites into the Earth's upper atmosphere.
#Biggest mall in the world- Dubai Mall
This mall has 1200 shops and is a 20-billion-dollar complex. It is 13 million square feet and the most amazing thing is it has 22 cinema screens.
#Biggest swimming pool in the world- San Alfonso del Mar
This pool is 3,324 ft in length with a total area of 19.77 acres. It looks more like a large river than a pool. This pool is considered to be one of the biggest things in the world.
#Largest telescope in the world- Arecibo Observatory
This observatory's 1,000-ft radio telescope is the world's largest single-aperture telescope.
#World's largest cruise ship- Symphony of the Seas
This year, their modern man-o-war is 5 times the size of the Titanic, weighs over 230,000 gross tonnes and can carry over 6,000 passengers plus 2,000 crew.
#Largest building in the world- New Century Global Complex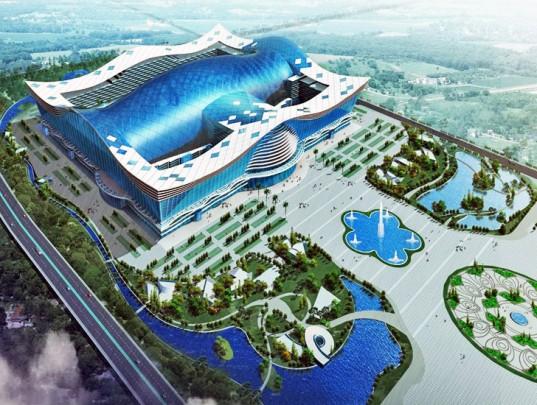 This building is the largest, with a floor area of 18.9 million sq ft. It's got hotels, a university and even an artificial beach inside!
#Biggest motorbike in the world- Monster Motorbike
This monster truck is 20 feet long, weighs 13 tonnes and can definitely hold its own against an SUV.
#World's biggest statue- Spring Temple Buddha
Located in China, the total height of this monument is 502 feet, including a 66 ft lotus throne and an 82 ft building.
Read, more