All bridges are for serve a purpose whether for utilitarian or inspirational. The Scary Bridges exist everywhere in all shapes, sizes, and heights.It is for very adventures for hangout the top scary bridges in the world.Lets see some Scary Bridges In The World.
1. Sidhue River Bridge,China
This Bridge Span more than 13,000 which connects.It is the latest Chinese champ to take the record as the highest bridge in the world. It is also known a  highway Huyu G50. It connects Shanghai and Chendo.
source 

Steemkr
2. Volgograd Bridge, Russia
Basically this Bridge crosses the Volga river in Russia at  the southern Russian city of Volgograd. During the winter season and bad weather this Bridge often found Traffic.
source
3. Musou Tsuribashi,Japan
It is most Scariest Bridge of Japan. There are no rails ,no bridge .So for crossing this bridge you should be surefooted and we might find yourself swimming with the fish below.

source
4. Royal Gorge Bridge – Colorado
In history it has consider has the "World Highest Bridge" in the World. It is Situated above the Arkansas river.It has been Suggested that not to look downwards While crossing the this bridge.

Source
5. Millau Viaduct ,France
It is tallest bridge in the World.It has maximum height of 343 km and  having world's highest multi-span bridge and the longest suspended bridge in the world.
source
6.  Langkawi Sky Bridge – Malaysia
It is known as  "World's Most Spectacular Pedestrian Bridges "it is a curved suspended bridge made of steel.If we ever dream to walking  on a footbridge which is hanging high up in the sky and soaking views of mountains and the sea below, we can actually fulfill that dream in Langkawi at Malaysia.
source 
 7. U-Bein Bridge, Myanmar
It is known as"world's longest teak footbridge".The best  time to visit the bridge is just after sunrise. U-Bein Bridge crosses the Taungthaman Lake in Myanmar platform  which is made up of teakwood.
source
8. Chesapeake Bay Bridge, Maryland
It is said as longest steel structure that spans over water. It connects Northampton County on the Delmarva Peninsula with Virginia Beach.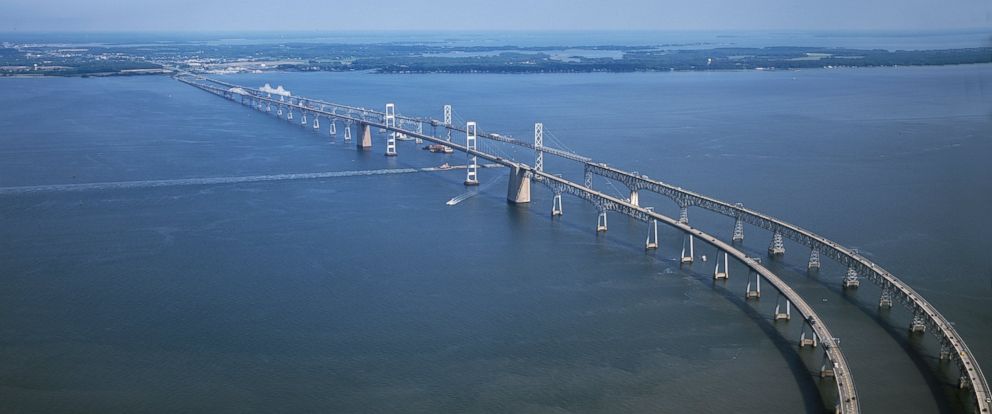 source 

ABC News
Read More